The students at Mariposa are using a computer software program called Renaissance Place. This program has a special feature called Home Connect. Home Connect is a fun, easy-to-use, easy-to-understand web-based interface that allows each student, and you the parent, to share in the educational experience by viewing progress in Renaissance Place programs such as Accelerated Reader while outside school.
You can view Home Connect from any computer with an internet connection.
To log in to 'Home Connect' go to:
https://hosted198.renlearn.com/286457/HomeConnect/Login.aspx
Your child received an individual letter with a personal user name and password. Use these to login to the site.
In Home Connect you can also:
Click Email Setup to sign up to receive emails showing your student's quiz or test results.
Accelerated Reader
The Accelerated Reader (AR) Program is an important part of the Language Arts (Standard 2/3) curriculum at Mariposa School. I am pleased to inform you that this year AR will be part of our school wide reading program. The Accelerated Reader Star test establishes a Zone of Proximal Development (ZPD) for each child. The ZPD range is where each student will choose books at their own reading level. After reading an appropriate level book, each student will take a computerized comprehension quiz on that book. Students have individual goals based on their reading level and are given points for successfully completing these reading quizzes. A monthly incentive program is in place to reward students for participation and give recognition for their accomplishment in reaching their reading goal!
Within the classroom there is an AR quiz for every textbook selection and each student is also required to read books at school and at home in their established ZPD range and pass the computer quiz each month to reach their goal. Class time is set aside daily for reading AR books. After an individual goal has been met, other books may be chosen. These additional books do not need to be Accelerated Reader books, however, students are always encouraged to take more than the required number of quizzes. Tests may not be taken at home, but you can check book levels and reading level by logging in. You may also use the AR book finder to locate books at your child's reading level.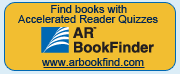 Suggested books for third grade are on the
California Reading List
page from the Department of Education. I look forward to your child's success when reading at the appropriate book level while participating in the school wide reading program.
Remember, the more a student reads, the more successful they are in school!